We've devised a benchmark for this month and here are the details. There's a picture below and a downloadable PDF at the bottom of this post. We'll also have hardcopies at the gym and we'll put them on the Facebook group.
However, you may not need to print this. We may offer a way to record things via the web. We'll get back to you.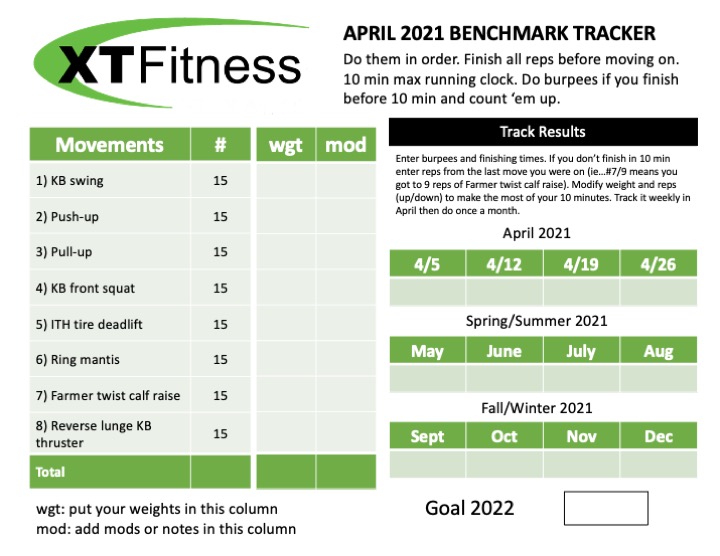 A few notes on the design.
We wanted recording to be simple. In the simplest form, you record one number – burpees. Just start a timer for 10 min, do exercises 1-8, then do burpees until the 10 minutes expire. Record your number of burpees.
That's it, the number of burpees you did. Enter it into the light green box under the date. We've labeled the four April months with the first Monday of the week but that doesn't mean it's going to go down on Monday, it's just there as a guide.
If you like it, you can do it on your own every month to see if you're progressing. We have space for that.
We also wanted to make it easy to let you be you, so we've provided a couple columns for personalizing. You pick your weight and enter it in the column labeled "wgt." We've also added a "mod" column so you can modify anything. Make notes in the "mod" column if you change pull-ups to ring rows or tweak the # of reps.
You have options. Keep us posted if you come up with something cool because we expect this to evolve.
In general, for benchmarking purposes, you'll want to pick a good weight and number of reps and leave it so you can track your progress. Grab something that pushes you but still allows you to finish with time left for some burpees.
We did 5 of each a few days ago at the end of the workout with a 2 min clock. It took me over 2 minutes and I was using a relatively light KB, no nuggets in the tire, and I did ring rows. If I do the math that means I could finish 15 reps in something close to 7-8 minutes. That leaves two minutes for burpees so I may stick with those selections.
Here is the PDF so you can start ruminating on this.
Stay tuned this week for more. Post your questions below or in the Facebook group.